Barbecue Recipe
Oven "500 Degree" Recipe
Meat Thermometer Recipe
Barbecue Recipe
This recipe is for a 4lb to 5lb prime rib roast and cooks medium rare.
Ask the Butcher: Ask your butcher to cut the ribs off the bottom of the roast and place back on tying the roast and ribs together for easier slicing of the roast after its cooked.
For best results: From fresh, leave your roast in the fridge for 2 – 3 days to age.
Take the roast out of the fridge the day of cooking and leave until room temperature.

On a platter, rub your roast with either olive oil or unsalted butter. 

Sprinkle the roast

on all sides with "

Patti's Choice Prime Rib Rub

". (One package

contains

enough rub for

(2) 5lb roasts or (3) 4lb roasts

).
Example below of a 4lb roast prepared with "Patti's Choice Prime Rib Rub" and butter.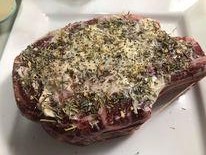 Heat Barbeque

to 235 degrees

or

medium heat

.

Place a

meat thermometer

into the center of the roast

without

touching the rib bones. 

Place roast on barbeque with

bone side down

and cook for approximately

1 3/4 to 2 hours

. I

nternal

temperature should reach

125 degrees

.

Once

internal temperature

is reached,

remove

the roast from the

barbeque

. 

Turn the

temperature

of the barbecue to

high

and return the roast to the grill. 

Keep

turning

the roast on

all sides

for approximately

10 minutes

to

crest

the roast and

lock in juices

. 

Once roast has a nice

outside crest

, remove from barbecue and

place on platter

. Let stand for about

10 minutes

before cutting into approximately

½ inch slices

.
Suggestions: Serve with a barbecued baked potato, Yorkshire pudding, au jus, and Caesar salad for a delicious eazy peazy meal. 
ENJOY!! 
Oven "500 Degree" Recipe
Meat Thermometer Recipe